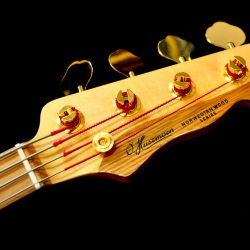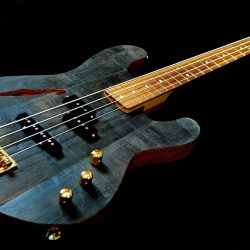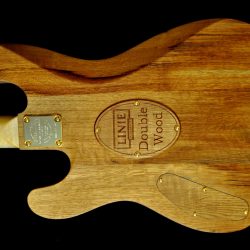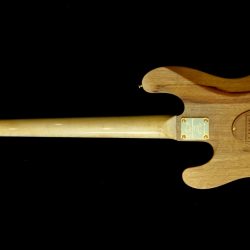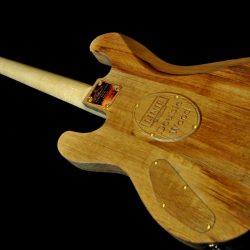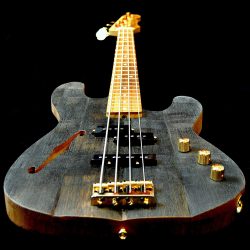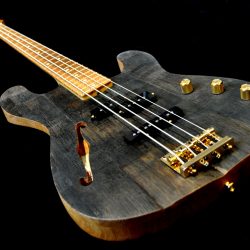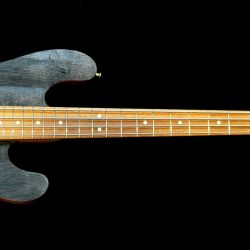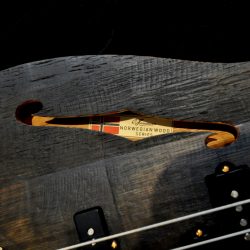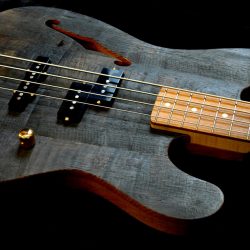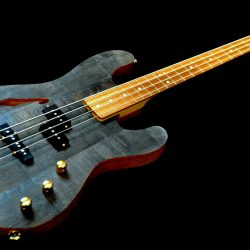 Description
Another aquavit oak barrel has been given a worthy retirement in the service of music. Yet again the smell of aquavit has been filling the workshop as we have been building the big brother of the aquavit St-Style we have built previously. This too was built on commision by the music loving CEO of Norske Akevitters Venner (Friends of the Norwegian Aquavit), and except for the neck, the whole guitar is built using old aquavit barrels donated by the coopers at Arcus.
We have picked up a couple of very basic tricks of the distillery trade and learned that small barrels (500 litres) are used for giving flavor and maturation, and large barrels are used for blending or so-called marriage. As we wanted to keep the look and feel gained by years of use we have kept the rough outside of a small barrel as a top. On the back you can see how the aquavit has soaked from the inside of a large barrel.
It was quite a challenge finding usable pieces and matching them all together, but finally it turned into a bass that both plays, sounds and obviously looks great!
SPECS
Model: NWS Bass, Aquavit barrel
Body Wood: Chambered oak with a natural oak barrel top
Body Features: F-hole, bellycut and a narrow neck joint, Engraved oak plaque on the back
Bridge: Shaller
Neck Wood: Maple
Fretboard Wood: Oak barrel
Neck Features: Compound 9,5" - 12" radius, Tilted fretboard
Scale: 863 mm (34")
Frets: 21 frets, Medium
Fretmarkers: Clay dots
Tuners: Schaller
Pickups: Edmire
Electronics: Volume / Volume /Tone. A push-pull switch on the tone pot allows switching between series and paralell on the pickup.
Finish: Beeswax